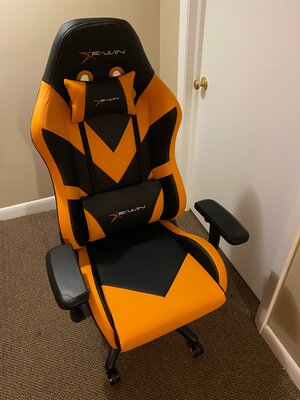 A few weeks ago the great folks over at E-Win Racing reached out to us to see if we would be interested in checking out their super fancy gaming chairs. And of course our answer was, "HECK YES!" Soon a very large box was dropped off at my door. That box contained a Champion Series Ergonomic chair, and what you're about to read is a look at my experience assembling it, and parking my keister in it for the past couple weeks!
Assembly
I'm including extensive photos in a slide show that will help you get an idea of how the chair shows up, the size of the box, and the steps it takes to assemble the chair. From the time I cut the box open, until I sat down in the chair was 36 minutes (and a few seconds). That includes the time I took to stop and take pictures, if I hadn't the whole process would easily have been under 30 minutes, which is pretty fantastic. By my count there are a total of 8 bolts, and 2 screws that need to be manipulated in order to assemble the chair (PLUS they included extra parts in case you lose something). The seat back and the seat take four bolts that line up fairly easily, and then there are 2 plastic trim pieces that cover up where those bolts connect the two pieces, and the 2 screws hold those trim pieces in place. The remaining four bolts were already screwed into the bottom of the seat and are taken out and then screwed back in to attach the hydraulic assembly. Then it's a matter of pushing in the five wheels into the steel base, and setting the whole thing down into place.
Features
This thing has all the bells and whistles! Just about every point of articulation you could want is here! The armrests articulate up/down, forward/backward, twist inward/outward, and slide laterally! If you can't find a comfortable arrangement for them, you haven't tried! The seat back also reclines to nearly fully reclined (range of motion is 85-155 degrees), and of course the entire seat tilts back as well (which is lockable). The Championship Series chair also comes with 2 pillows: a lumbar support pillow, and a neck support pillow.
The Verdict!
I'm going to take a few different viewpoints and share some thoughts, first as a tabletop gamer, and pc/console gamer, and lastly as an office/desk chair.
Tabletop Gaming—Personally, I don't think tabletop gaming gives enough thought to the chairs we sit on. We're perfectly fine plopping down at the table for a 2-3 hour D&D session, or a marathon game of Twilight Imperium, while sitting on a hard, wooden dining room chair, or slightly padded folding chair, while our legs go numb. There are a few manufacturers out there who are making strides, but we have a long way to go. That being said, this chair is great. I have two different tables I game at here at the homestead, and using a top-notch chair to sit at them makes a big difference. Being able to sit at an appropriate height, and keep the armrests unobtrusively at the ready is a whole new level of tabletop gaming. My back isn't as achy from leaning over the table and being able to sit higher really helps with sight lines on the table. I'm a bit taller than average (6'3") so the high back on the Championship Series adds support and comfort as well!
PC/Console Gaming—This is where the articulation of the armrests really comes into play. Being able to swivel, slide, and adjust them to my body shape, arm length, etc. really makes for a comfortable gaming experience. It's like the chair isn't there; my arms and hands don't feel fatigue, and I feel like I play a bit more consistently because my hand position is more consistent and supported, which relaxes my hands, which cuts down on fatigue. This is obviously what this chair is primarily designed for, and it absolutely shines!
Office/Desk Chair—If you go to E-Win's website, the listing for this chair includes the description "office chair," so it is certainly considered a valid replacement for your current office chair. And let's be honest, with the current lockdown situation there are a lot of us who are either a. not working, or b. working from home, and (like me) realizing how uncomfortable your home office chair actually is. I know I've spent more time in my office/studio space these past 3 months! Again this is where the Championship series really shows off. Typing with armrests that give support is a real game-changer and being able to adjust the recline angle of the chair has (and this is not hyperbole) changed my life. My last three office chairs were only able to recline as a whole unit, and it was impossible to find a comfortable angle to sit and work in for any length of time. This is a strong contender to replace your current office chair, believe me!
One last thing I'd like to talk about before giving my final verdict is the quality and aesthetics of the chair. E-Win touts a brand new PU Leather, and cold cured foam construction. It. Is. Sharp! It looks great, and the stitching, the construction, and all the touches are there—the chair just feels great! The hubless casters are quiet, and smooth (I'm mostly on carpet and I can move fairly well, especially compared to my former office chairs), and they look totally rad! I have noticed that it does overall sit a bit higher than I'm used to sitting in an office chair, but I've adjusted to it in the office and it works just fine. The locking mechanism is also pretty sweet. Not only will it lock so you stay upright, but you can lock the tilt mechanism at any point, that's right, I can kick back, lock it into place and not have to fight to keep it at a comfortable angle, or tip forward unexpectedly. Seriously, this chair has it all!
Final Verdict
The E-Win Championship Series chair is terrific—let's just get that out of the way. It is not a super cushy/overstuffed chair that will whisk you away on clouds. It's a high-performance chair. When I sit down in it I know I'm about to get stuff done. Whether I'm going to whoop my kids at Madden, delve into a dungeon on the tabletop, or produce a new episode of Cryptic Podcast, things are happening when I hop in this seat! If you're looking to make a seating upgrade, I highly recommend checking out E-Win and their Championship Series chairs.
The awesome folks at E-Win were kind enough to offer our readers 20% off, just head over to their site RIGHT HERE and use the code "THEOLOGY" at check out! We're super grateful to them for taking care of our readers like that!
Thanks for reading!
Note: This is a review post from https://www.theologyofgames.com/