About two years back we did a review on a product that wasn't quite the standard fare for Bigbruin.com; a PC gaming chair. The original review was on the Flash Series ergonomic office chair from EWinRacing.com. Recently they reached out to us and asked us to take a look at another one of their chairs; the Flash XL. The XL series is specifically made for, well, let's just say larger frames. It is designed to hold up to 550 pounds and people up to 7 feet tall.
Features and Specifications:
The chair we received is model number FL-BB3H-XL, which is a Flash Series XL chair, one of the EwinRacing gaming chairs. According to the folks at EwinRacing, the model I received has the same specs as their FLH-XL which you can read about here. Both of these chairs feature E-Win's stain resistant 2.0 PU leather that is designed to stand up to repeated cleanings. These chairs are a black color with a nice quilted section between the bolsters. This PU cover is wrapped around their cold-cured foam. This E-Win Prime foam is twice as dense as regular foam which helps it maintain its resiliency and overall durability. The chair has an easily adjustable backrest from 85 degrees to 150 degrees. The 4D adjustments provide fine tuning of the armrests and the controls below the seat allow for easy height and tilt adjustment. The 3″ casters are designed to work on all floors without damaging the surface.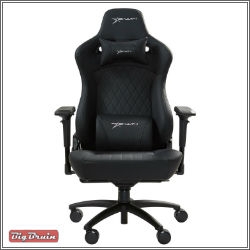 Below are some additional details from their site.
» Chair Type: Gaming/Office Chair
» Foam Type: High Density Separated Foaming
» Foam Density: 60kg/m3
» Frame Color: Black
» Frame Construction: Metal
» Adjustable Armrests: 4D
» Mechanism Type: Multi-functional Tilt
» Tilt Lock: Yes
» Tilt Angle Lock: Yes
» Gas Lift Class: 4
» Chair/Seat Back Style: High-back
» Adjustable Back Angle: 85-155 Degrees
» Base Type: 5-star Heavy duty ADC12 Aluminum Base
» Caster Size & Material: 3″ Caster/PU
» Weight capacity: 550 pounds
» Metal Structure Frame – 10 Years Warranty
» Seat Mechanism – 2 years
» Arm Rest – 2 Years
» Wheels – 2 Years
» Headrest/Lumbar Support Pillows – 2 Years
» Five Star Base – 2 Years
» Gas Lift -2 Years
Overall the EwinRacing Flash XL chair appears to have all you need to make it a comfortable chair for the long haul.
Packaging and Accessories:
When the FedEx guy showed up with this, my first thought was: "what the hell did my wife buy?" He was carting this huge box (90cm x 74cm x 40cm) up the driveway on a dolly. When he got to me I saw the sticker and realized what it was. What I didn't expect was how heavy this was going to be; it was nearly 70 pounds. For the most part the box is understated; there is a red set of stripes across the top and down the side along with the E-Win logo and on one end there is a picture of the chair with model number info. The top of the box does warn you not to use a knife to cut it open, but you might be able to get away with one if you don't fully extend it. Under the typical flaps of the box there is another cardboard sheet to further protect the contents. Once this is removed you will see the 5 arm base on top of the backrest which is on top of the seat base and another box of accessories.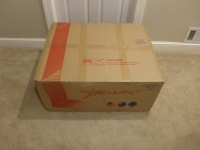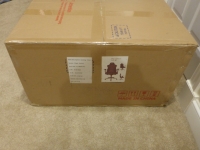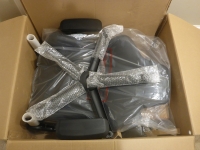 Inside this other box you will find a pair of white gloves, the hydraulic cylinder, the adjustable base, the caster wheels, side bolster covers, hydraulic cylinder cover, socket head cap screws (SHCS) and other hardware, Allen wrenches, and the assembly guide.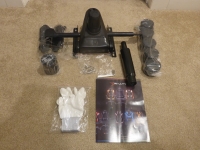 Setup:
The assembly of the chair is easy in concept but at times was a bit challenging. The first challenge for me was trying to put the gloves on. Perhaps I should have asked my son to do the assembly as the gloves are small. While I was able to get the gloves mostly on, they were quickly removed when I realized my lack of getting my fingers fully inserted made it impossible for me to pick up the Allen wrench. After this you remove the (4) SHCS from the sides of the backrest. Then you are to place the backrest between the back adjusters mounted to the seat bottom. The problem I ran into was the width of the backrest, it just wouldn't fit between the support brackets. To get this connected I needed to tighten the screws on one side first. This slightly compressed the foam on that side and allowed me to compress the other side to get the backrest more or less lined up. From there I took the smaller Allen wrench to line up one hole as I threaded the SHCS into the other hole. After this you install the support bracket covers with a single screw then fill the hole with the included caps.
Flipping the base over you will find (4) more SHCS which you need to remove. Underneath not only will you find a well-constructed fully welded frame, you will also see they added elastic straps under the cushion for additional support. At this point you install the tilt adjustment bracket, ensuring you line the front indication on the mechanism to the front of the chair. After securing it in place with the (4) SHCS you move on to the base assembly.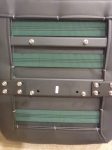 To assemble the base you simply push the (5) casters into the heavy aluminum base, then insert the hydraulic cylinder into the center of the base. Finally you take the hydraulic cover and drop it over the cylinder. At this point I suggest you get some assistance and have someone help you place the seat on the base. I did this by myself but with how heavy this chair is it was no easy task.
The Basics:
The first thing you will notice is how big this chair is. It really seems enormous. Next what you will likely think is: damn, this is a nice looking chair! The back really reminds me of a performance driving seat, but the bottom is a bit flatter than I expected. The quilted stitching adds a really nice high end touch to the aesthetics. Unfortunately I think the E-Win logo placement is a bit over the top. I think it would have been plenty to have it just on the headrest instead of in three locations, but that is a personal preference.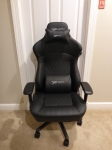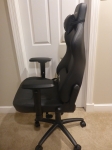 Below is a picture from their site showing some dimensions for the Flash XL. I made some of my own measurements, and while some do match up there were some discrepancies. For instance; I measured the base to be approx. 23.5″ wide by 21″ deep and 13″ between the bolsters. The seating surface started at a height of about 22.25″ to 26″. The back measured approx. 34″ high, 23″ wide, and 13.25″ between the bolsters. The armrests are height adjustable from 6.5″ to 10″ from seating surface, they slide fore and aft about 2.25″, rotate +/- 15 degrees or so and can be adjusted 20.5″ to 21.5″ apart.
Unlike the image above, the Flash XL series chair I received didn't have the holes in the neck area. This means the neck pillow simply slides over the headrest and the lumbar pillow on this version doesn't have any straps like some of their chairs for height adjustment.
Speaking of adjustments; this chair has a lot of them. As mentioned, the armrests can be adjusted in height, rotation, fore and aft, as well as spread between them. Of course you have you typical seat height and back adjustments, but you can also adjust tip.
Performance:
From the outset it was obvious to me this was a well-made heavy duty chair. Just the sheer weight of the chair conveys quality. They really didn't skimp out on the hardware. The base is solid and heavy cast aluminum and the included casters are large enough to make rolling on most surfaces a breeze. The only issue I have with the casters is the rubber is quite tacky. So if you have debris on the floor the wheels will pick this up. It didn't cause any damage, it just looked a bit messy.
The included adjustments are all super easy to use, sans the armrest rotation. As mentioned in our previous review, this adjusts too easily. Grabbing the chair by the armrest to move it will pop the rotation adjustment. While this isn't a showstopper it seems they could have done better. Also while the armrest is comfortable, I would have rather had a replaceable PU cover here. I think that would have really made the chair look even more upscale. Right now it just looks like you lost the covers.
As mentioned the chair includes a neck and lumbar pillow. While this is a very subjective thing, I found the lumbar pillow to be useless. Since there are no straps to hold it in place like some of EwinRacing's other chairs, you have to adjust it each time you sit down or even move in the chair. Plus I found the pillow to be just a little too big, it just shifted my hips a little too far out. This is somewhat apparent in the pictures below, one I appear to sitting more upright in. But I do think I am on the small side for this chair, so perhaps this pillow is better suited for someone twice my size. On the other hand I found the neck pillow to be quite comfortable and useful. Not so much for desk work since I have a tendency to hunch forward, but if you sit back for gaming or even watching a movie I felt better supported and more relaxed. I also found that it didn't interfere with the use of a headset.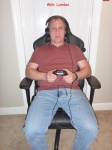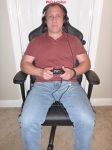 The height of this chair was really unexpected. At its lowest setting my feet reach the floor just barely. While I concede I am not the tallest I am of average height, so this feeling of being in your dad's chair is a bit weird. I also wonder who could use this at its highest setting. My desk at work has a clearance of 27.5″. If this chair goes up to 26″ your legs would have no room unless you also have a height adjustable desk. Just something to keep in mind for you big guys out there.
I found the range of adjustments for the seat back angle to be more than enough to find the right spot for desk work, gaming or movie watching. I was very surprised with how stable the Flash XL felt fully reclined. Equally surprising was how large the base of the seat is. It was so roomy front to back and side to side I was easily able to sit with my legs crossed and not feel like my legs were about to slip off. Having such versatility really made the Flash XL more comfortable for long stretches.
Conclusion:
The EwinRacing Flash XL is a really solidly built chair that looks and feels high end minus a few points. The quilted PU cover really seemed to breathe better than I expected during the long stretches I spent watching movies/playing games. The armrests provided great adjustment and support, especially when gaming. Though I do think a little more padding and a PU cover on the armrests would go a long way.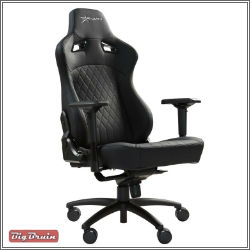 Overall I found this chair to be not only comfortable but supportive. This really surprised me due to its size. Since this chair is so big I just assumed it would have all the support features in the wrong spots. So I think their assessment of the chair fitting from 5'7″ to 7″ might be pretty close if what you lack in height is made up for in girth. But with that said I would strongly suggest you look at the E-Win shopping guide. It has ranges of heights and max weight for each chair. While fit is subjective, I think your best bet would be to shoot for a chair where your size is in the middle of the range supported. Based on this the ideal chair for me would be the Champion series. So not only would the chair likely fit my frame better, but I could also save around $150 too.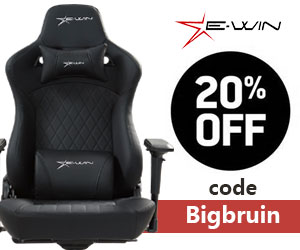 The EwinRacing Flash XL chair has a retail price of $509, but the normal price is $469. There is a special code, 
Bigbruin
, which takes another 20% off for a final price of about $375 with free shipping. The Bigbruin promotion is not as good as their Black Friday promo on their website where the code 
BF
 takes 30% off everything (or a final price of about $328). This is still a very expensive chair. But based on the quality of construction and materials used (minus armrests) there is more value here than you might expect. Just taking a quick look at an office supply site, they do have a "big and tall" chair to support up to 500 pounds for $336 but it lacks recline and adjustable armrests among other things. So if you do indeed need a chair on the larger side, this EwinRacing chair appears to be a great option for you. It is well made, has tons of features, looks awesome and has a great warranty so it really should stand the test of time.
All things considered, the EwinRacing Flash XL Gaming Chair earns the Bigbruin.com awards of "Good Value" and "Gaming Approved".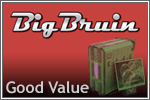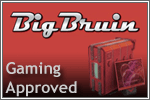 Pros:
» Overall the build quality is great
» Comfortable for extended periods
» Very adjustable
» PU cover dissipated heat better than expected
» PU cover should prove to be very durable
» Warranty is very comprehensive
Cons:
» Armrest seem cheap compared to rest of build
» Armrest rotation needs better lock
» E-Win branding over done
» Lumbar pillow not fixed
Note: This is one review post from https://bigbruin.