I'm a man who takes chairs very seriously.
I work from home. I put in an eight hour day in my office chair. I often game, read, or watch TV in my office at night. So my chair of choice is one I spend far too many hours in. It's not an exaggeration to say that selecting the right chair is a big life decision.
Enter E-WIN's Champion Series gaming chairs. These chairs are all about premium. From the sleek leather, to sharp design detail, to a tiny custom neck pillow; they're very much about presenting a luxury chair experience. They even come with white gloves to protect your hands from grease during chair assembly.
Assembly: 4 Stars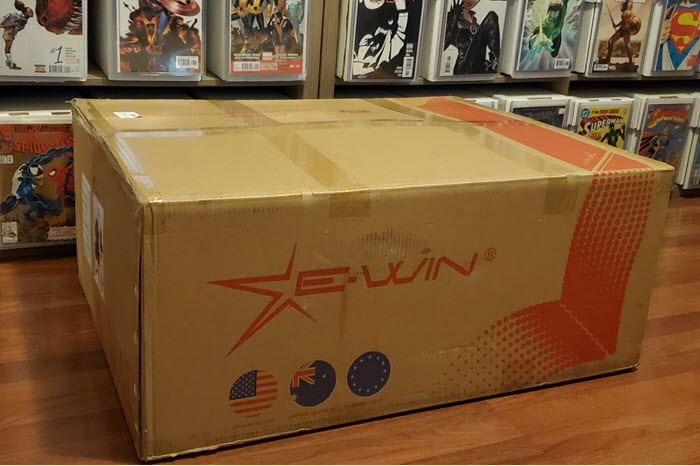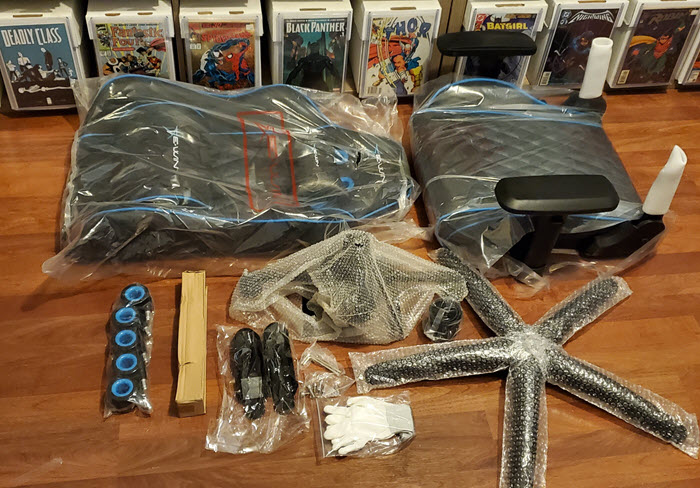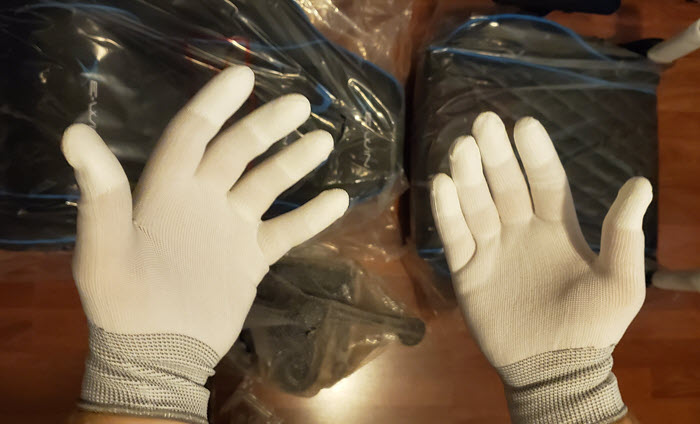 I'm a dude who has built A LOT of chairs in my lifetime, probably in the neighborhood of 100 or so. Assembling the E-WIN Champion took little more effort than a typical office chair, but nothing too crazy. As is tradition, it's assembled with simple hex bolts and two "L" wrenches. The toughest part was attaching the chair back to the seat, which was a bit difficult to align the screws.
Instructions were clear, and included high quality color photos of the actual product. The aforementioned white gloves were a nice touch, as there is a little contact with grease involved in attaching the base of the chair.  Nothing too crazy that wouldn't wash off easily, but it was still nice to not have to worry about that.
Look: 5 stars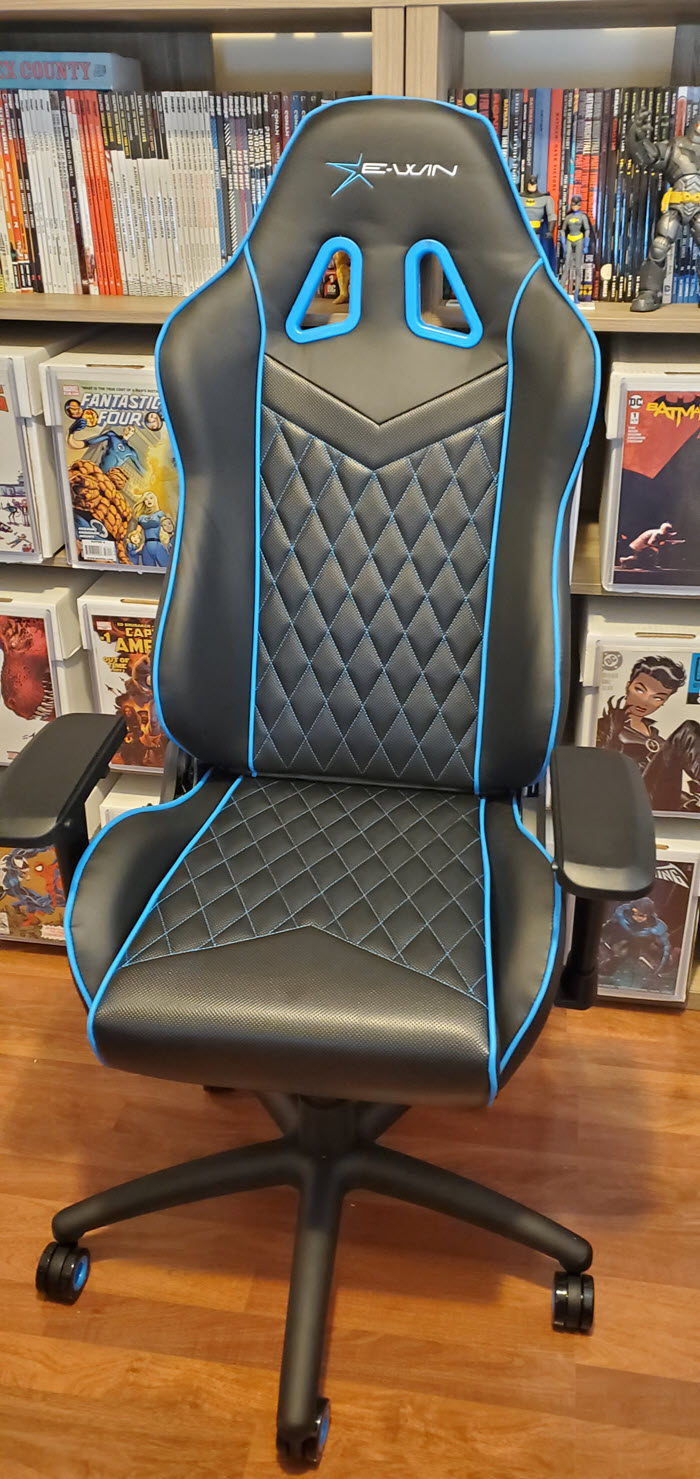 This chair looks cool as hell! From the design detail to the trim colors, it's obvious a lot of thought went into deigning an awesome looking chair. The chair-back in particular mixes textures, colors, and stitching to maximum effect. Adding color to the wheels is a nice extra touch.
The Champion series is racing seat inspired, with a lot of contour to your body. I don't know that it serves a functional purpose, but it's a cool design feature, adding to the overall look of the chair.
Initial Comfort: 4.5 stars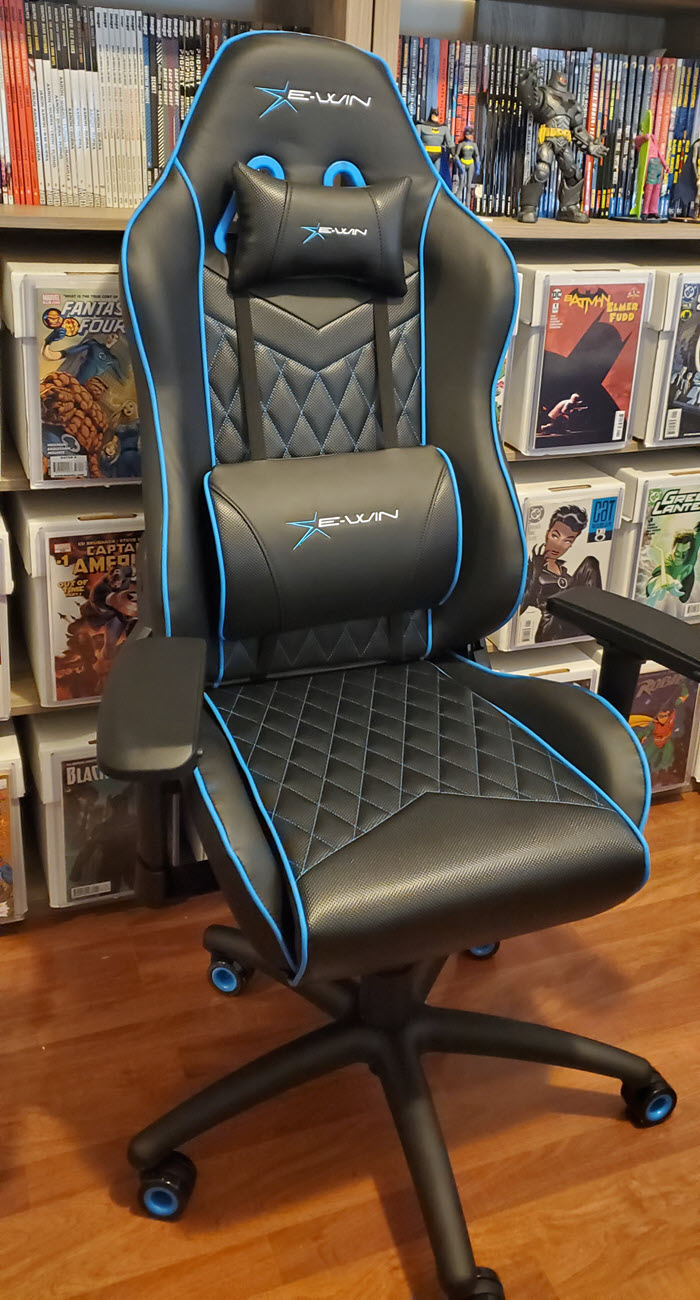 The E-WIN Champion is a very firm chair at first impression. It's not "hard", but it is noticeably firm. I use a Tempurpedic office chair, which absorbs your body into a sense of spiritual one-ness with the chair, so it's quite a difference.
The chair comes with removable, adjustable neck and lumbar pillows. It also has a great range of reclining options. Both features combine to create a very comfortable experience for controller based gaming. The lumbar pillow is also nice for keyboard and mouse gaming posture.
All-Day Comfort: 4 Stars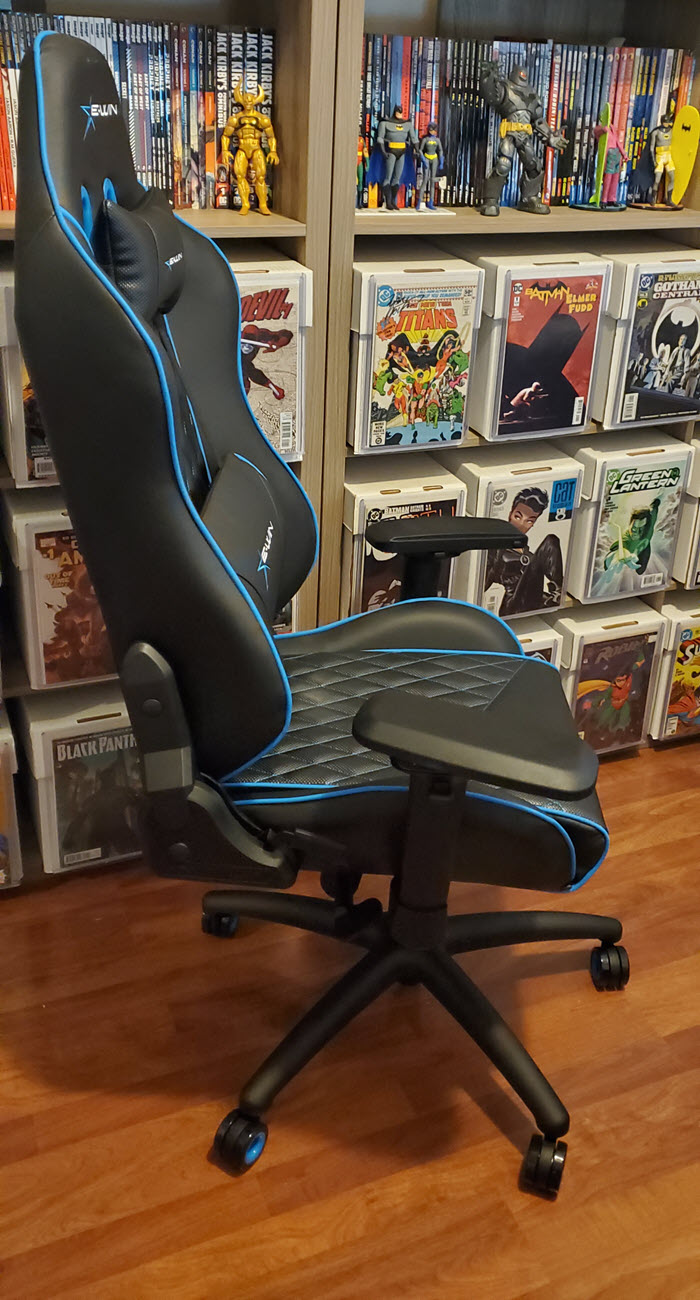 Comfort isn't just an initial impression, it's how you feel after an 8 hour work day, or weekend consuming dungeon crawls. In addition to sitting for 8 hours a day, I've got a lingering back injury and awful posture. The lumbar support forced me to have better posture, which took a little getting used to, but was fairly comfortable overall.
I'm always a bit concerned about overheating in leather chairs, but I had no such issue in the E-WIN Champion. It felt cool all day long, and during some late night gaming.
Bonus Points: This is a great chair for taller gamers. Chair and armrest height adjust to "very, very tall."
The bottom line: This is a premium gaming chair, most comfortable when reclining for controller based gaming. It looks amazing, and has a ton of design detail.
E-Win Racing Chairs has PC gaming chairs and office chairs of all styles. Find your match on their website.
Summary
This is a premium gaming chair, most comfortable when reclining for controller based gaming. It looks amazing, and has a ton of design detail.