Gaming chairs tend to be three things: expensive, ugly, and a little bit uncomfortable. But somehow, someway, EWin has managed to break away from the competition with its affordable, comfortable Champion gaming chair.
Here's What We Like
Comfortable and Breathable Materials
Sturdy Aluminum Base and Steel-Framed Body
Easy to Assemble
Everything is Adjustable, Including the Arm Rests
Comes with Fancy Gloves
Affordable
And What We Don't
Awkward Pillows
Firm Seat Cushion
In the past, I've spent an embarrassing amount of energy complaining about how gaming chairs don't work well as office chairs. To prove my point (to myself, I guess), I decided to use the EWin Champion as a full-time office and gaming chair. At this point, I've probably spent over 100 hours with my butt planted in the Champion, and it's now my dedicated office chair. Even the cat likes it. Go figure.
So, what sets the Champion apart from the rest? Is it the materials? The anime-esque design? The memory foam innards? Well, my love for the Champion began as soon as I opened the box.
The Easiest Assembly Imaginable
Let's start with a bit of honesty. I love to assemble new toys and furniture, to the point that it's a bit of a problem. Friends and loved ones shy away when I have a tool in my hand; they've learned not to interrupt the manic episode that takes place when my eyes lock on a hunk of loose materials and disorganized screws.
But in the last month, that manic obsession has taken a hit. See, I've just moved to a new building, and the assembly-gland in my brain is exhausted from disassembling and reassembling so much stupidly designed furniture. When the EWin Champion chair arrived at my doorstep, I honestly dreaded the thought of dealing with it. I considered swearing off furniture for good, but then will power to slice open the box.
I'm still impressed by how well the box was organized, and by the short 15 or 20 minutes that I spent assembling the EWin Champion chair with an included Allen key.
In the box, the large parts of the chair (the seat and backrest) come mostly pre-assembled, and the smaller pieces are clearly labeled and partitioned into baggies and boxes. At first, I was confused by the small number of bolts and screws that are included in the box, but I quickly realized that most of the screws are pre-installed in the chair's body, so you don't have to go looking for them.
Naturally, the chair comes with an instruction manual. I'm happy to say that this manual was written by a creature with a pulse. It's easy to follow, it's only one page long, and it doesn't contain any typos.
The EWin Champion chair also comes with a nifty pair of gloves. This seems a little odd (I assumed that they fell in during the packing process), but they're included with every EWin gaming chair. Are these gloves for gaming? Are you supposed to wear them while assembling the chair? I have no idea, but I appreciate their existence, I guess.
Surprising Build Quality
As a lazy work-from-home sort and a dedicated PC gamer, I've spent a lot of time in my new EWin Champion chair. In that time, I've been pleasantly surprised by its build quality.
A chair's construction is similar to the human body. All chairs have a dense boney frame, soft meaty innards, and a protective outer shell (I don't feel comfortable saying that a chair has skin). As a human being, you probably don't want to be made up of a bunch of cheap parts. Well, chairs don't want to be made of cheap parts either, which is why the EWin Champion is built with a steel frame, a dense memory foam body, and a surprisingly rich and tightly-stitched polyurethane upholstery with a leather finish.
With these components, the EWin Champion chair is a durable, heavy beast. It's stain-resistant, it feels very secure, and despite my best efforts, I haven't managed to fall back while sitting in it.
As long as my cats continue to love and respect my belongings, this chair should last for a long time. And believe me, I hope that it lasts for a long time, because as it turns out, well-built chairs are super comfortable.
Comfort and Adjustable
EWin isn't lying when it says the Champion is made from high-density memory foam. This is a firm chair. And while I hate to sink into a chair, especially while I'm at a computer, I think that the Champion could use a little more cushion. Usually, I don't notice the firmness, but sometimes I have to set a small blanket on the Champion's seat to keep things comfy.
Thankfully, the Champion's innards are soft. Let me reiterate something; the EWin Champion's PU leather upholstery is luxurious. It's soft, like an expensive coat. And while synthetic leathers are notorious for trapping heat, I haven't caught myself sweating in the EWin Champion chair. The Champion is surprisingly breathable.
But comfort doesn't depend entirely on materials; it also depends on adjustability. And every part of the Champion is adjustable.
Like most desk chairs, the Champion has a hydraulic height-adjustment lever. I'm a little over six feet tall, and my feet can barely touch the ground at the Champion's highest position. The Champion also has a reclining lever, and it can recline to an almost entirely horizontal position, which is extremely comfortable (albeit not wholly practical).
Surprisingly, the Champion's armrests are also fully adjustable. EWin calls them "4D armrests," because they can rotate, they can slide to the left or the right, they can be raised up and down, and you can push them forward or backward. If you don't like armrests, you can remove them altogether. I like to keep the armrests at their lowest setting. I spend most of my computer time typing, and the armrests are great for supporting my elbows and keeping my wrists straight.
The only thing about this PC gaming chair that makes me uncomfortable is the lumbar pillow. It's a little too bulky and a little too low for my tastes. And while you can technically adjust the pillow's height by raising it along its straps, the straps can't be tightened, so the pillow doesn't stay where you set it.
As for the neck pillow, I don't know how I feel about it, because I can't reach it without awkwardly forcing my back into the chair. Plus, its straps can't be tightened, so I can't adjust it to suit my tastes. Thankfully, both pillows can be removed from the chair, and I usually use a little throw pillow in place of the lumbar pillow.
The "Huggy" Factor
Now, I have a particular (and possibly unjustified) complaint about most racing-styled gaming chairs. They're a little too "huggy." Like a booster seat, racing-styled chairs tend to be folded inward, and you can feel it on your back and your butt. In my experience, lumbar and back pillows tend to add to this discomfort.
The EWin Champion chair is unique, as it's just the right amount of "huggy." It's comfortable, but it still keeps me from rolling into a crooked or un-ergonomic position. That being said, I think the lumbar pillow's bulkiness and lack of adjustability subtract from the posture-supporting "huggy" factor by pushing my lower back forward. Maybe it's just my body type, but again, I think that a smaller lumbar pillow would make this chair even better than it already is.
A Cool, Albeit Niche Design
In the past few years, I've managed to go through an embarrassing number of chairs. Of those chairs, the EWin Champion is the only one that looks like it's from an anime.
Now, is that a bad thing? Not necessarily. I feel like I'm controlling a mecha while writing product reviews or playing video games, and that's comforting. It gives me an odd sense of power. But would I suggest this chair to a friend based on its design? I guess it depends on the friend.
Don't get me wrong; I think that EWin's struck the right balance between style and usability. And I understand the Champion needs to stand out from the competition because gamers tend to buy the products that are used by their favorite Twitch streamers or YouTubers. It's just that the design is a little niche.
That being said, I think that the Champion looks better than most gaming chairs, and appreciate that the chair's embroidered EWin logo isn't too flashy.
Overall, this is a great chair. It's comfortable for work and play, and it's built to last. At just under $300, the Champion is the best in its league. I just hope that I can find a use for those gloves.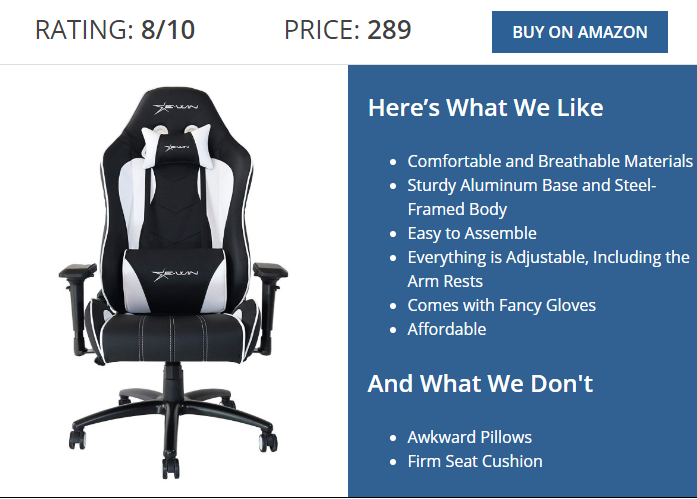 Note: This is a review post from https://www.reviewgeek.com