Here is a math question:
A Kustom Klauz controller is $220.
A EwinRacing  Champion series chair is $349.
So how much do you need to pay for them too?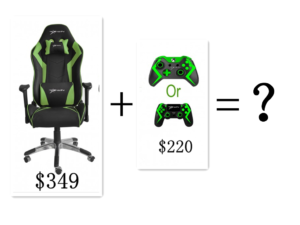 The answer is ……$349!
From now on, pay $349 and you can bring a super cool controller and a super comfortable chair home (ONLY for Champion Series GREEN color) !
Attention, coupon is NOT available for Champion series Green chair .
What are you waiting for? Your gift is ready! Click here and get them.
Hurry up!