Good afternoon, lovelies! Now, we bring you our new champion series. Can you imagine what does it look like?  Let me show you the following  pictures: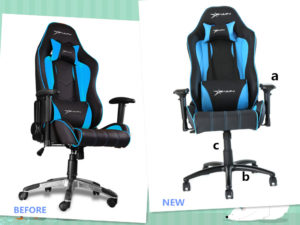 New designs & tips:
1.The 4D ajustable armrests replace 2D ones (a)
2.More charming appearance of five stars base with black spraying plastics (b)

3.More durable basement due to aluminum protected by black spraying plastics

4.The diameter of casters is 6 cm
5.120 cm gas lift (c)

6.Price increases about $10 depending on the improved materials
We always do our best to satisfy your needs, giving you the best user experience! If this series above is not your style, please click our website to find your special gaming chair!