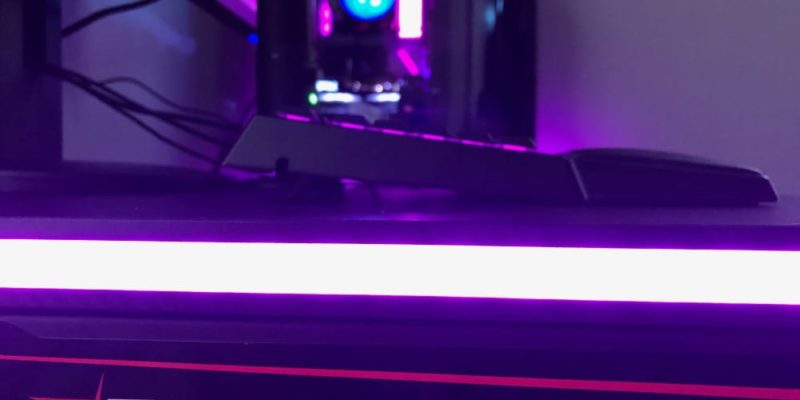 The Ewin Racing brand operates in the gaming space, but the majority of its products are racing-style chairs. They are a common site with video creators and streamers, whom the brand specifically targets for its marketing. Although the focus from Ewin Racing has been to put its product in front of as many people as possible, especially those who have a wide-spread reach in the gaming market, that doesn't mean that an RGB desk like the Ewin RGB Gaming Desk also fits that marketing plan. For starters, a chair is on camera when a stream or video is shot. A desk, on the other hand, is generally something for the user to enjoy. It may or may not have functionality beyond a general gaming desk.
In the case of the Ewin 2.0 RGB Gaming Desk, it functions for the sole purpose to please those who are wanting a customizable desk that also serves the purpose of a command station. And honestly, it does both of those things fairly well, albeit with a few sacrifices to functionality.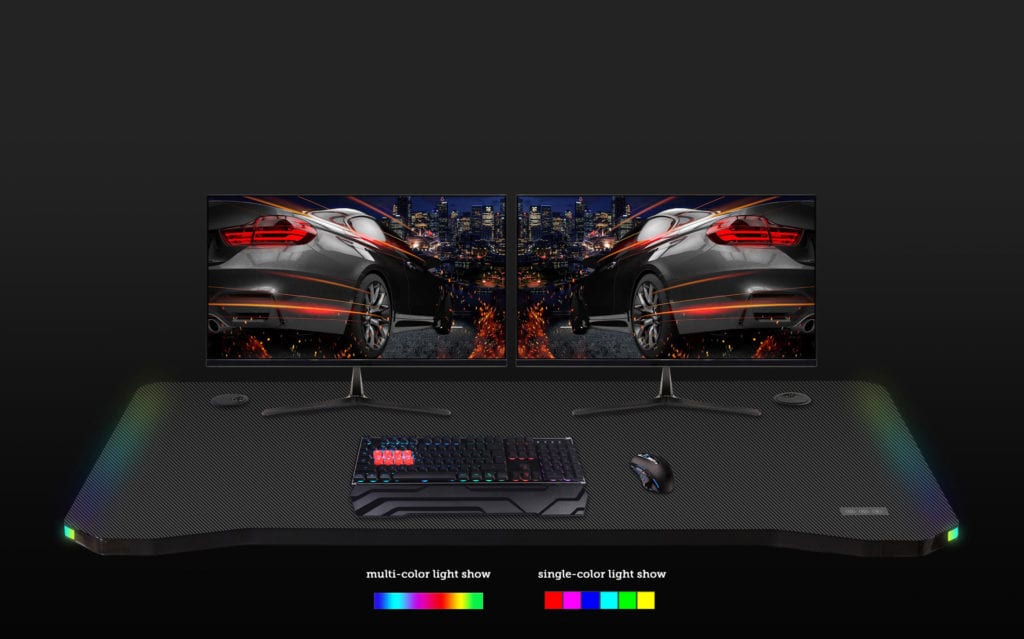 Some assembly required
When I came home to find the box for the Ewin desk sitting on my porch, I was surprised at its sheer size and weight. Most of that weight comes from the desktop itself, chiming in at 48″ (120 cm) wide and having a depth of 26.8″ (68 cm). This is important if you're wondering whether it can support a single, dual, or even triple monitor setup. The entire desk, legs and top, weighs a little over 55 lbs (25.3 kg). So, if you're wondering whether or not it's sturdy — it is.
For the most part, the Ewin 2.0 RGB Gaming Desk has a pretty straightforward assembly, so much so that it only comes with one skimpy page for instructions. This is great and all if you've got the know-how to assemble furniture with little direction. Although, I still could have used more direction on the RGB cords and setup. The desktop does house two feed-through ports from below your desk to the top for cable management.
At this point, I'm still unsure if they have more functionality to them, like working with Phillips HUE or any other third-party light system. There are two RGB wires that hang from either side of the desk. They end up connecting to a USB extension that can be plugged into your PC or a power source. This is what powers the RGB panel that runs along the sides of the desktop and the legs, emitting the color-coded light of your choosing.
Functionality
With the way the wires run on the RGB desk, though, the options to place your tower are limited if you're powering it via USB into your PC. Even if you are not going to be setting it up this way, you still have to account for ventilation wherever your PC tower is going to sit. As mentioned, there is quite a bit of desk space to house multiple monitors. In this case, I was able to fit my rig and monitor side by side. And on a side note, if you normally have drinks on your desk, the desk comes with a swiveling cupholder that can support mugs with handles. It turned out to be utterly convenient.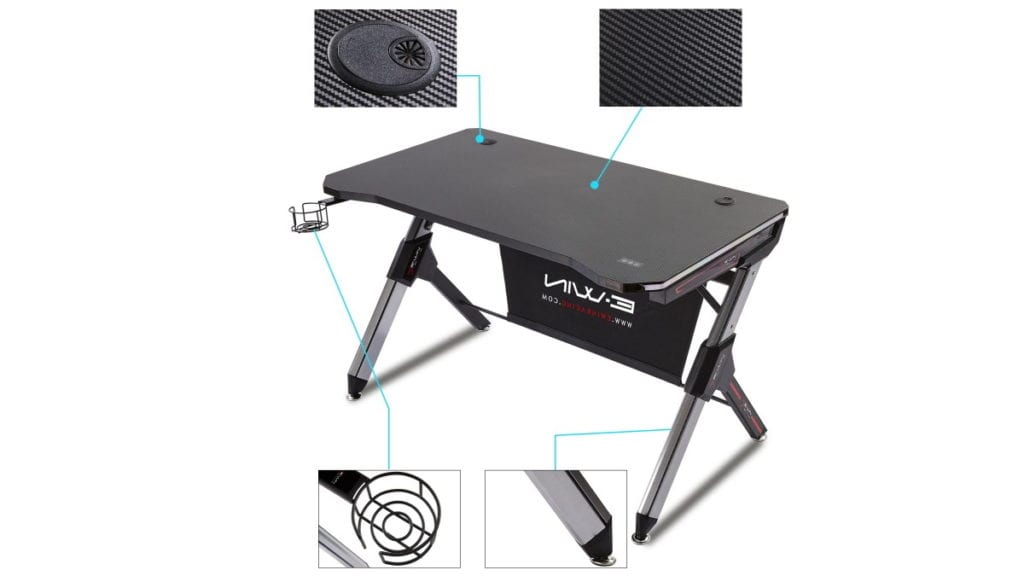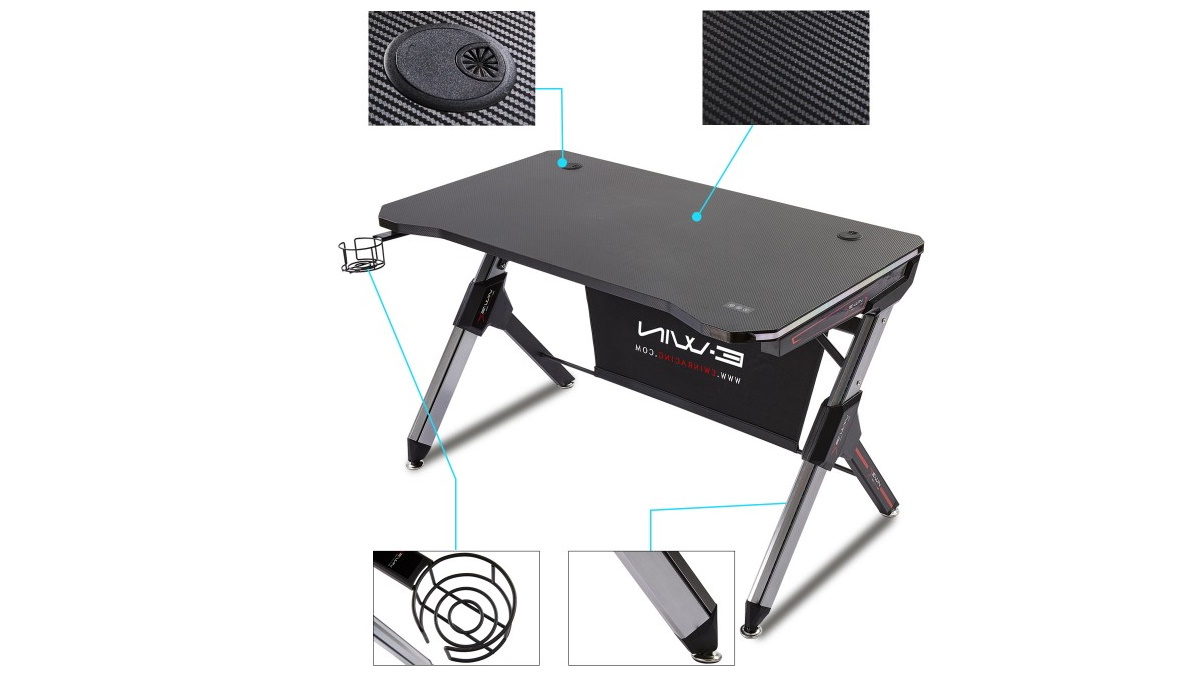 I wouldn't have normally opted for my PC to be sitting beside my monitor sideways. I recently just built into a mid-tower case with a tempered glass side, complete with ASUS Aura Sync motherboard. This was done to put my AMD RGB Wraith Prism cooler, Corsair Vengeance RGB RAM, and Razer Ornata Chroma keyboard to good use (and on display). Admittedly, I did move it around to finally arrive at the setup seen in the picture below, something that still manages to showcase its shine.
Oh, the colors
It seems like the bottom line here is that, if you're wanting to finalize or complete your RGB setup, the Ewin 2.0 RGB Gaming Desk is most likely the last or first thing you'd pick up. For me, I already saw the prettiness that came with the Razer Ornata Chroma keyboard and light effects on my Corsair RAM. I was wanting to obtain an RGB motherboard in order to have customizability with the AMD Wraith Prism cooler. All of these products synced quite nicely together to have all the lights on my desktop dance, shine, and emit just about any color of the rainbow. The desk was really the icing on the cake for my setup.
I wasn't in the market for a new gaming desk, let alone one that had RGB lighting. My gaming center genuinely feels like a command station now, complete with a color scheme and design that I chose. As far as I know, the Ewin desk is limited to the preprogrammed schemes, but they were close enough to the lighting that I chose on my desktop. I was relieved when everything came together and I could admire something that was customized to my tastes. Because, at the end of the day, this is where I'm choosing to wind down and spend my relax time.
Final thoughts
Once again, I find myself surprised and impressed with the offerings from Ewin Racing. The Ewin 2.0 RGB Gaming Desk is a sturdy, quality gaming desk that happens to feature RGB lights. You can let the lights dance about or simply lock them into a color of your choosing, if it matches up with your current color scheme. Ultimately, I'm happy as to how everything was finally pieced together and how it feels like it's mine in terms of a custom gaming station.
You will have to keep in mind what you want on your desktop though; there are no shelves for your tower or drawers here. These are the sacrifices for vanity, I suppose.
Overall, if you've been wanting your PC's light show to extend beyond keyboards, mice, motherboards, and RAM, then the Ewin gaming desk is where you start or end your RGB journey.
Price: $399 USD
Dimensions: 120 cm wide X 68 cm deep X 75 cm tall
The Ewin 2.0 RGB Gaming Desk has easily become a sturdy, yet, important set-piece to my gaming station. What initially intrigued me as a gimmick has become part of my lighted PC gaming station experience. It matches up well with a number of different RGB products, such as my Asus Aura Sync motherboard, AMD Wraith Prism cooler, RGB RAM, and Razer Ornata Chroma. As a fair warning, you will lose out on standard desk features, like storage, drawers, and a platform for your PC. However, the desktop offers ports to feed cables through for easy management. It's the kind of accessory that can complete your RGB light show or be the first thing to drive you to buy more hardware with dancing lights. The end result, though, was something that felt customized to my tastes.
PROS
Decent color palette
Sturdy, wide, and comfortable design
Mostly easy to piece together
Cable management ports on both sides of the desktop
Swivel cupholder is a nice addition and use of space
CONS
Losing out on desk storage space
Could have done more (given the price) to offer more custom colors and patterns
Note: This is one review post from www.pcinvasion.com