EWin Calling Series Ergonomic Computer Gaming Chair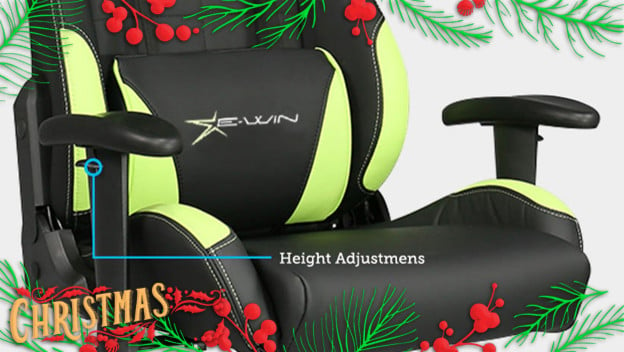 Whether you're gaming, working, or taking a nap, the EWin Calling Series Ergonomic Computer Gaming Office Chair is a must-have for any office, streaming lair, or family room. The angle-adjustable backrest will help you adjust the sitting position throughout the course of your experience. Like your gaming chair leaned back a few degrees? The locking tilt function allows you to not only rock back the seat and backrest, but also lock it in the position that fits you.
With the First Stain Resistant EWin 2.0 PU Leather, it's also easy to clean. It can be wiped repeatedly without surface damage by using a clean cloth. Also, it surpasses industry performance standards for strength abrasion, hydrolysis, and UV stability while retaining the real leather look and feel that has made it so popular.
E-Win Prime interior high-density foam puts it well above the standard High Resiliency foam. It is engineered to be two times heavier than regular foam per cubit foot, inching it near the realm of memory foam. The elasticity of the foam helps prolong the comfort life of the chair and adds to the overall durability of the product.
The Calling Series comes with PU coating casters that are engineered for quieter operation and greater resistance to foreign objects and debris, rolling effortlessly on all types of flooring while preventing damage to the surface beneath. So this means there'll be no noise when you're recording those YouTube videos!
This model usually retails for $359, but the first 19 customers each day can score it for the low price of only $129! So be sure to head over to E-Win's site at the link above and grab one before the holidays!
Note: This is one post by cheatcc.