There are so many gaming chairs out there that picking one to add your setup can be an overwhelming decision. Choosing one is especially difficult when you consider just how expensive gaming chairs can be. Fortunately, there are some great budget options out there, and Ewinracing has quite a few affordable chairs. How does the Champion Series model hold up?
Considering how much time people can spend sitting in their chairs while they play games, comfort is the number 1 priority for most. Fortunately, this is a comfortable seat that just about any medium-sized person can comfortably sit in for hours at a time. The pillows are soft and are placed in just the right spots for support. The lower pillow could be just a bit tighter to allow for more adjustment, but this doesn't completely ruin the experience. The chair is more accommodating for a variety of body types than one would expect too. We had a woman who is 8 months pregnant try the chair out, and she found that the pillows offered just the right amount of support for her to be comfortable.
With how comfortable the Champion Series chair is, it is surprising that it is so affordable. This chair is accessible when you compare the competition, and you can usually acquire it for less than $300. The chair seems to be well made and worth every penny. It doesn't come with any wild bells and whistles, but most will be satisfied with what they paid for. The chair's flexibility and price ensure that is can be versatile to the user's needs, even if that isn't gaming.
As mentioned before, the chair doesn't come with any wild features, which isn't surprising considering the price. Just about everything is accessible on it, which is more than you can ask for. The arms can go in every direction: up, down, left, right, forward and back. This allows users to find what is comfortable, and if things get stiff after a long play session, you can quickly adjust the arms to find a new comfortable position. The height is easily adjustable as well. Finally, the chair can lean back so far that the user can just about lay flat on their back and fall asleep. The pillows hold up well in every position, adding to the chair's versatility.
The chair is easy enough to put together. It arrives in a compact but large box that contains the few pieces needed to assemble. Assembly is fast, and most users will be able to put the chair together in less than half an hour. All necessary tools are included in the box, so you won't need anything extra. It even comes with a pair of gloves to keep your hands clean. It's clear that this product was made with those who aren't too great with building in mind. If you have any experience building with Ikea furniture you will likely not have any trouble putting together this chair. A partner does make it much easier though, as the chair has some heavy pieces.
Speaking of heavy, this seat is hefty. At about 60 pounds, the chair is solid. The added weight adds the feeling of sturdiness to the chair. While we haven't had much time with the EwinRacing Champion C Chair, it certainly feels like this chair will last for some time. It's listed as able to hold close to 400 lbs, so bigger people should still be able to use the chair without much concern. I can't speak for how comfortable it is for larger people since I am about 140 lbs and 6ft myself.
The chair looks great, with a sleek design. Without the bright, vivid colors, it can easily pass as a simple office chair.  It has a professional appearance and doesn't sell out on looking like a gaming chair. The formal-ish look will appeal to those who don't want their chair to be too gaudy. It doesn't scream "Gaming Chair" out to a room at all. The appearance lends itself well to normal office settings, adding a bit of flexibility to its uses. The C model comes in blue and red, so you can pick what makes for the best accent with your gaming setup. The other Champion series chairs come in a variety of other colors like green, pink, and yellow, but I can't speak for any other differences those chairs might have.
Considering the price, the EWinRacing Champion Series is a great choice for those who want a simple but accommodating gaming chair. If you are okay without the fancy bells and whistles, it's hard to go wrong with the EWin Champion Series.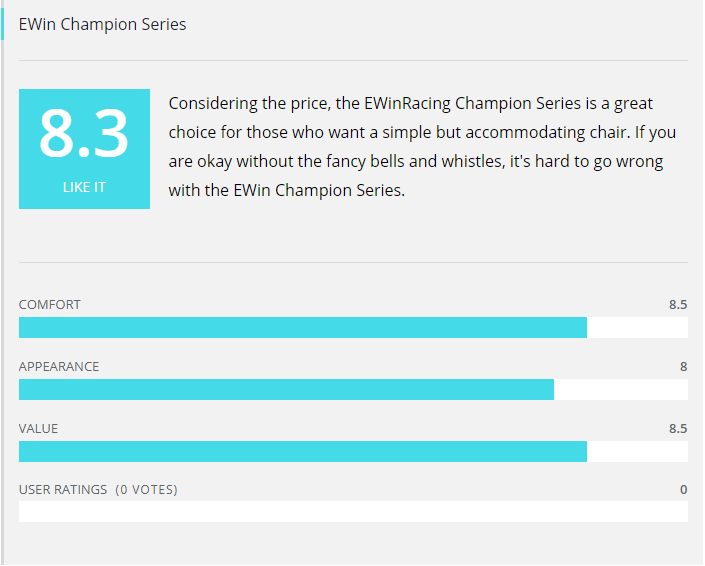 Note: This is a review post from https://sequentialplanet.com